Lets Make Hip Hop-History In Oct 2012
Dee Jay Raw El Padrino of Miami
HOODSTOCK HISTORY

Hoodstock was founded in February of 1990. Until the advent of Hoodstock the Miami Dade community had been without inner city Hip Hop representation. Then DJ RAW & K.O.P. management convened a meeting to discuss the matter and bring forth a committee that would objectively represent and strengthen the community.

The results of that meeting were manifested On October 1994 when the first Hoodstock seminar was held at the Roberto Clemente Park in Wynwood, Miami Dade County. With the message of "Peace in the Hood" the concert brought together over 1,500 local residents, media coverage and community leaders. At the last Hoodstock concert seminar that occurred in 1996 over 10,000 people from around the world were in attendance.

In 1997the CEO of HOODSTOCK was sentenced to an excess amount of time in Jail. His charges were drug related. Many since have questioned DJ Raw's true intentions with creating Hoodstock but if you ask any of the Miami youth that attended the functions most in their 20's at this time; they will tell you that Hoodstock was the best thing to happen for Hip Hop in Miami Dade County. Hoodstock ever since has been held in reverence by many a person world wide ranging from government officials to inspired artists. With blessings, guidance and experience Raul Medina aka DJ RAW was released from prison in 2007. While in prison Raw received 7 certifications from the health dept in104 HIV prevention and structured an HIV program for the Dept. of corrections that is being applied today. DJ RAW is stronger, determined and more spiritual minded than ever and after atonement to society is now in the perfect position to show and prove to the youth that other avenues are available for their growth and that bottom line, crime does not pay. "I will finish what I started therefore Hoodstock must be resurrected" says RAW. For DJ RAW the Hoodstock event has always been a promise he made to our youth to help them & give them direction through this maze that we call life.

This years Hoodstock promises to be bigger and better than ever. Given new fuel through renewed purpose Hoodstock seeks to educate the youth as well as entertain them. Using this approach with today's youth culture will help us to redirect the mind of the youth and give them a more healthy and prosperous outlook on life while improving on everyday interactions within their specific communities. This new found platform on interaction will create a ripple effect that will counteract negativity in Hip Hop world wide. This has been the goal of HOODSTOCK in the past and is definitely our goal going into the future.

HOODSTOCK exists as a private, nonprofit company helping the youth to realize their goals. We receive no financial or in-kind support from the city of Miami where there is a scarcity of music and arts service organizations. HOODSTOCK seeks a facilitator / catalyst role instead of a programming role.





WORKSHOP SUMMARYS

HIP HOP IN SOCIETY – an in depth discussion on the socio-economic and social conditions that created the proper catalyst for why Hip Hop came to be. Discussions will also include the direction that Hip Hop has taken and the effects and opportunities that Hip Hop has created in today's economic and social playing field. Heavy discussion will be held on media impact and how to use Hip Hop to navigate yourself in the world today.

B-BOY CULTURE – an in depth discussion about the culture, this work shop will bring to the fore front the pioneers of Hip Hop while discussing how the four elements come together to produce a well rounded member of the Hip Hop community. This discussion will also delve into the issue of respect in Hip Hop and the influence that Hip Hop has on fashion.

BREAKING – is one of the four elements of Hip Hop, this workshop will be in depth on the history of breaking and the techniques of past and present. Heavy discussion on the effect that breaking had on street gangs and violence. We will also discuss the relationship that music and dance have to one another and the employment avenues that have been created for the breaker.

GRAFFITI TECHNIQUES – Will discuss the history of Graffiti. Discussions will also be held on techniques in graffiti and employment avenues that have been created for the artist.

THE MC – will be an in detail discussion on the history and evolution of the emcee. Discussion on technique and stage presence will be foremost. Content on how to get a deal and copywriting issues will be presented as well as discussions about employment avenues that have been created for the mc.

THE DJ - will be an in detail discussion on the art and history of the DJ. Discussions on the craft, tools of the trade and specialty behind the club/ radio DJ and the trick showman DJ will be addressed along with employment avenues that have been created for the DJ on a whole.

SONGWRITING – will discuss the fundamentals of songwriting and the importance that reading and knowledge has on a writers creative abilities. We will also discuss the importance of copywriting and the role that ASCAP and BMI plays in the writer's career.

MUSIC PRODUCTION – Will be an in depth discussion about the fundamentals of music production also current trends and future trends. Points of view will include the artistic and business end of things

FILM PRODUCTION – Discussion of where the Hip Hop culture is going as seen through the eyes of mass media and in relations to technology. We will also discuss how to produce a film on a minimal budget and how music has influence on television and film.

ROCK & ROLL – will discuss the foundation of Rock and Roll and its impact on society. Discussions about the different musical patterns that exist between Rock and Hip Hop and the importance of other genres of music as it relates to sampling in Hip Hop and giving the producer a creative edge.

PHYSICAL FITNESS & NUTRITION – will discuss the importance of proper nutrition and physical fitness. With there being less and less emphasis on physical fitness in our school system our future generation is at risk of becoming obese and developing heart disease and diabetes. The topic of Safe sex will also be discussed. This work shop will teach the youth how to avoid becoming a future health statistic.

HIV 104 PREVENTION – Discussions on the origins history virology and immunology in HIV will be held. This class will be a 4 hr requirement that will provide workshop attendees with their 104 HIV / AIDS Certification from the Florida Dept of health.

10-20-LIFE / VALUES & MORALS - Will be a real life in depth discussion on the role that Hip Hop plays in the development of our value and moral standards. It will also take a look at the future of the prison system and we will also discuss solutions that will help to avoid unwanted altercations as well as discussions about the punishments exacted by certain crimes in our society. Financial Literacy will also be discussed in this workshop.



HIP HOP FORUM

Our forum will be a round table discussion between the pioneers of Hip Hop, and label executives i.e.: The CEO, A&R, Artists, Producers, Program Directors and Distributors as well as select youth. The topic of discussion will be: What can we do to affect the popularity and sales of "Positive Hip Hop" in today's society. We already know Hip Hop music that portrays the negative stereotypes gets ample promotions and sales etc. What we need to find out now, is how to get the same popularity for the positive aspects in Hip Hop music. The ultimate goal will be to create bigger sales, a positive outlook on Hip Hop culture and a more balanced mind state for the artist and consumer.



THE INTERNATIONAL CROSSOVER MOVEMENT

Hoodstock will be pushing for unity in the communities by producing a compilation album entitled "THE CROSSOVER". The International Crossover Movement will secure the notion that music crosses all cultural lines and barriers. The compilation album will consist of music/ lyrics from artists of different ethnicities presented on one platform. I.e. A song done with a verse in Creole, Spanish and English or a song done on a track that fuses different genres of music together such as a hip hop track that has rock & roll overtones… or a Latin track that has been infused with Hip Hop overtones and English lyrics. The combinations are limit less and will provide a new perspective in our creative approach to music while promoting unity through music.

We have put together a team of 50 DJ's who will make it a priority to push singles that develop from this compilation Our DJ's will be known as "THE HOODSTOCK INTERNATIONAL DJ's". Our DJ roster is growing every day and our DJ's exist in countries as far away as France and Africa and as close to home as Miami, FL.

We strongly push for artist /producer involvement and would like to see this movement flourish. There is no reason why it should not. Hip Hop is now a world wide phenomenon that has the youth of the world joined together by song. We just want to present a platform for them to be able to uphold and view of this manifestation as a reality.

If you are an artist or a producer who is interested in contributing their talent to this compilation please contact George Caboverde and all questions will be answered at that time.


WORKSHOP PARTICIPATION

HOODSTOCK will offer approximately 18 workshops spread over a 3 day period of time. The workshops will be designed to build the social and labor skills of the youth and their families who would not otherwise have the means to pay for such training. We will be targeting community youth organizations that utilize today's youth culture to teach.

Adviser and speaking opportunities are available for each workshop. We are strongly requesting and encouraging artist participation. The youth uphold you; you are an integral component of the world community. By becoming a Kulcha Carrier coach you join with others in celebrating the importance of Hip Hop, music overall, arts, sports and the youth within our society. Further more you take an active leading role in creating a vibrant and cultural future for the world. We can make the difference one neighborhood at a time. The artists who participate will have travel and accommodations paid for. Varied marketing / media opportunities will be present for the artists while they create a great social impact on the youth. If you are interested in being a Kulcha Coach please contact us so we can discuss the possibilities…



ITINERARY OF EVENTS
The Itinerary will be posted at a later Date. We are presently organizing the events to be held on December 28th, 29th & 30th 2007. Our registration drive will begin In July, Please reference our web site at that time www.miami-hoodstock.com for registration and sponsorship packet. For more information you can contact us at the number listed below.



HOODSTOCK CONTACTS

Marketing Opportunities (advertising, Bag Inserts, CD Sampler):
Najeebah Whyte.
(754)244-8609
Showcases and Independent Label Showcases:Joyco Bryant
www.bryantconcierge.com

(954)294-7837

Registration, Hotel and Travel Information:
www.yougottotravel.com

Workshops and Forum:
DJ Raw (954)638-2672

Dee Jay RAW is not promoting his prison term he believe he can help keep some of our rising Stars out free if they see and read that real is real.
So we give you all the truth.
Lets get right to the point; no one is perfect surlly not Raw. So we hide nothing all in your face. The Truth-Always-Works- Its algood under the sun.
Miami Herald September 19, 1997 - 1A Front (Ugly)

DJ: GOOD GUY GONE BAD -- OR A GREAT PRETENDER? Forever runnin'from the cops, Tryin'to get my props, Not makin' frequent stops Because I don't want them on my heels . . Yes I finally make it home But have that feeling ``I am not alone'' Just then, red and blue lights flash I try to make a dash But the car with the big mouth Said FREEZE!!! -- Raul ``DJ Raw''Medina...
Miami Herald - September 19, 1997 - 1B Local

THE RISE AND FALL OF A LEGEND IN THE 'HOOD Forever runnin'from the cops, Tryin'to get my props, Not makin'frequent stops Because I don't want them on my heels . . . Yes I finally make it home But have that feeling ``I am not alone'' Just then, red and blue lights flash I try to make a dash But the car with the big mouth Said FREEZE!!! -- Raul ``DJ Raw''...
Miami Herald - October 11, 1997 - 1G Living

HAPPENINGS IN THE 'HOOD DASH DADE'S HIP-HOP DREAMS The hip-hop heads were supposed to be here again this weekend. They were supposed to be moving, grooving, clapping and snapping to Miami's up-and-coming beat. They were supposed to come, in a throng thousands strong, to put Miami on hip-hop's ``to do''list. They were supposed to be attending How Can I Be Down?, the nation's largest urban music conference, and its little cousin, Hoodstock, a burgeoning homegrown festival in...


El Nuevo Herald - September 19, 1997 - 1A Frente

ACUSADO DE TRAFICAR COCA, ¿ HOMBRE DE DOS CARAS ? Raúl Medina, también conocido como DJ Raw, un promotor de música hip hop, esposo, padre de t res hijos y popular predicador callejero, está en prisión, pero quienes lo conocen dicen que Medina es un tipo bueno que se maleó, o un extraordinario actor. ``Era casi como si DJ Raw tuviera dos personalidades'', dijo el policía de Miami Alfredo Pumariega, que patrulla la comunidad de Wynwood y lo conoce. ``Había algo bueno en él. Pero era un modelo negativo

Miami Herald - September 17, 1997 - 1A Front

`IDOLIZED'INNER-CITY DJ ACCUSED OF DRUG, THUG LIFE While a popular Miami DJ used hip-hop to reach out to youth, police say the rapper was living the lifestyle of his lyrics -- selling crack cocaine, carrying guns and hiding from the law. Raul Medina, 33, a Wynwood-raised music promoter, was arrested Tuesday in an early-morning sweep that netted 16 kilograms of cocaine, 523 marijuana plants, $35,000 cash, eight handguns and two assault-style rifles, police said. Though Medina portrayed himself as a homegrown kid turned businessman,...
Sun-Sentinel
http://articles.sun-sentinel.com/1997-09-21/news/9709210067_1_police-station-trafficking-raul-medina
Sometimes no matter how hard you try to do good---The bad covers it all up!
THE GOOD!
VERIDOO.com A must see!
http://veridoo.com/profile.cfm?user=DjRaw
http://www.veridoo.com/browse.cfm?details=4652&user=stage
Hip Hop in America: A Regional Guide: Volume 1: East Coast and West Coast Check out this Book
By Mickey Hess
RockSteady Crew Dj Raw 1994
Wikipedia, The free Encyclopedia
http://en.wikipedia.org/wiki/Rock_Steady_Crew
Artist Biography: DJ De La
http://www.djdela.net/biography.html
http://blogs.phoenixnewtimes.com/uponsun/2010/05/hoodstock_is_this_weekend_flat.php
http://www.miaminewtimes.com/1996-10-10/music/reverb/
http://blogs.browardpalmbeach.com/countygrind/2008/01/?page=5
http://www.rapreport.com/miami/content/miami-hip-hop-history-90s-0
http://rapreport.com/miami/content/hoodstocks-dj-raw-be-freed-soon
1.

Miami Herald - October 6, 1996 - 3 Neighbors NC

HIP-HOP ACTS GIVE PEACE A CHANCE

You've heard of Woodstock. Now meet Hoodstock: a hip-hop concert for '90s kids, Wynwood style. It's baggy pants instead of bell bottoms. Nose rings, not mood rings. And a cry against violence -- not on faraway shores but in Miami. Hoodstock, the third annual 12-hour festival at Roberto Clemente Park, is Raul Medina and Peter Price's effort to put their neighborhood on the hip-hop map. The concert, featuring more than 20 groups from...

Miami Herald - October 14, 1996 - 1BM Business Monday

S. FLORIDA TAKES ITS PLACE IN HIP HOP NATION Last week in Miami: Beeper on the belt, cellular phone to the ear, hip hop broker Peter Thomas is making money, making music, making South Beach home for the nation's largest urban music conference. Thomas is making hip hop happen in South Florida. Downtown, urban outfitter Roland Jaramillo bobs his head to a throbbing beat and checks out his latest enterprise: Flava Station. A new clothing store, it touts the ``phattest hip hop gear''this side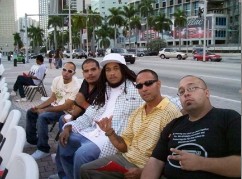 EMAIL US AT HOODSTOCK63@YAHOO.COM
IF YOU ARE READY FOR THE NEXT HOODSTOCK IN MIA 305
Are you ready New York? To come down for Hoodstrock...